Yen Bai is the province of Viet Nam where is located in north - west of Hanoi capital . The distance from Hanoi to Yen Bai is about 250 km which takes you about 4 hours riding with amazing view on it's way.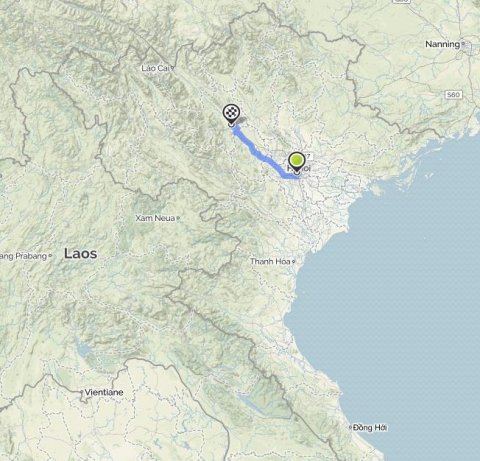 Getting to Yen Bai , you can do a lot of interesting activities:
- Visit a lot of highlights in Yen Bai such as:Thac Ba lake , Mo waterfall and Mu Cang Chai which are attracttive all travellers on the world.

- Taking only transportation to Yen Bai is a good way for you to do those things by yourself with more freedom. We offer 2 ways bus which are everyday departure.
BUS FROM HANOI TO YEN BAI, YEN BAI TO TO HANOI
- Vietnam Local Bus has pick up service from your hotel to bus station with English speaking guide.
- Vietnam Local Bus has contact with many good buses at the bus station, you will not have to worry about your belongings.
- Easy to purchase ticket, you can book online 1 day, 2 days or longer in advance if you travel during Vietnam holiday time.
- Vietnam Local Bus works with a lot of bus companies for years, so we always have available seats. Even you go on our holiday, as long as you let us know before 48 hours (on holiday time).
- Flexible and convenient in payment, you can pay online by Visa, Master, American Express card (3% bank fee will be added), Paypal, Western Union
- You can check all detail, useful information from our website:

vietnamlocalbus.com

before you decide to take your ticket.
- Vietnam Local Bus will not charge you if you change departure date, as long as we are informed 24 hours in advance by confirmation to you. Here is all information of our bus that you need to know.
BUS FROM HANOI TO YEN BAI
SCHEDULE

PICK UP TIME

ARRIVAL TIME

PRICE

Hanoi to Yen Bai

Every hour from 7.00 - 19.30

After 4 hours

15 USD

Information




- Pick up: from hotel in the Old Quarter




- Drop off: Bus station in Yen Bai city




- Bus type:




+ Day time: Seating bus




+ Evening: Sleeping bus





HANOI TO YEN BAI BUS SCHEDULE
- Our guide and car/ taxi pick you up at the hotel in the Hanoi Old Quarter to My Dinh bus station then takes 3,5 hours to Yen Bai. On the way, we have 1 times for shortbreaks for bathroom. You also can find you some snacks for breakfast there on your own.
- After 4 hours : Arrive in Yen Bai city at bus station, get droped of here, journey finishes.
PRICE: 15 USD/ PERSON
Included: English speaking guide, car or taxi to bus station in Hanoi, bus ticket to Yen Bai.
Excluded: Insurance, meals , drinks, tip to guide, personal expenses.
BUS ROUTINE FROM HANOI TO YEN BAI CITY
Hanoi Oldquarter - My Dinh bus station – Vinh phuc province – Phu Tho province – Phu Ninh distric ( shortbreak) – Yen Bai city (last stop).
BUS FROM YEN BAI TO HANOI
SCHEDULE
PICK UP TIME
ARRIVAL TIME
PRICE

Yen Bai to Hanoi

Every hour from 8.00 to 17.30

After 3 hours

15 USD

Information




- Pick up: from bus station in Yen Bai city




- Drop off: Bus station in Hanoi




- Bus type:




+ Day time: Seating bus




+ Evening: Sleeping bus





YEN BAI CITY TO HANOI BUS SCHEDULE
We pick you up at Yen Bai bus station in center of Yen Bai city then you get on seatting bus heading to Hanoi. It is 4 hours from Yen Bai to Hanoi including 1 stop on the way for stretching your legs and bathroom. You will arrive in Hanoi after 3,5 hours, this bus will drop you at Giap Bat bus station. Finish your bus journey.
PRICE: 15 USD/ PERSON
Included: Car or taxi, bus ticket to Hanoi.
Excluded: Insurance, means , drinks, tip to guide, expense personal
BUS ROUTINE YEN BAI CITY TO HANOI
Yen Bai bus station – Phu Ninh district( shortbreak) – Phu Tho province – Vinh Phuc province – My Dinh bus station (last stop).
Note: Taxi from My Dinh bus station to Hanoi old quarter around 120.000 VND/ 4 seats taxi. You should choose these taxi companies, they are more trustful:
Thanh Cong Taxi: 043257575, Mai Linh Taxi: 0438333333, Thanh Nga Taxi:0438215215.
TRAVEL TO YEN BAI BY DIFFERENT WAYS
There are 4 different ways to get to Yen Bai city from Hanoi:
1/ HANOI TO YEN BAI BY MOTORBIKE
You can rent motorbike in any travel agencies in Hanoi to slowly driving to Yen Bai city and back . For a good quality for roads motorbike, it costs about 10 USD per day which can be for 2 people sit on. You should drive slowly to enjoy landscapes and stop for photos shooting on the way.
Note: You should give your passport to agency, read the contact carefully and choose good motobike, furthermore you should check careful with their mechanic service conection in case your motobike is broken on the way.
!!! Warning: You should be carefully before renting because roads to Yen Bai are very dangerous with traffic jam.
2/ HANOI TO YEN BAI BY TOURIST BUS
You can book and join a tourist bus from companies who organise tours to Yen Bai but it really depends. Because tour from Hanoi to Yen Bai is not popular. Therefore, sometimes you can book - sometimes you can not. And it can be cancelled in a short advance when they cant collect enough customers to make their tour run.
3/ HANOI TO YEN BAI BY PRIVATE CAR OR TAXI
This option seems to be the most convenient one for you if you have a group of at leasts 3 - 4 people join with you. If not, it is kind of very expensive to go alone or too small group.
4/ HANOI TO YEN BAI BY LOCAL BUS - DO IT YOURSELF
You can take a taxi to My Dinh, Giap Bat, and Nuoc Ngam bus station to book ticket. Bus timetable is very flexible. Purchasing bus ticket by yourself, it means you have to arrange everything you do by yourself: taxis, contact driver, finding the right bus among hundreds buses in station... It is not very easy when you dont speak the language and local people here don't speak English too.
!!!Warning:
- At bus stations, there are many gangster men who are willing to cheat you to get you on a terrible or wrong bus, you have no idea where you are going to as you can not communicate to local people. Till you realise it, you are far away from the big city.
- There are a lot of buses, neither do you know them, nor do they know you. If there is anything happens to your belongings, you have noone to ask for help.
- During festivals time in Vietnam (Independence holiday, King ceremony holiday, New Year holiday...), local people often plan their holiday in advance. Bus tickets to Yen Bai fully booked very soon. Therefore it is difficult for you to purchase ticket by yourself if you have a narrow plan.
BEST TIME TO VISIT YEN BAI
You can visit Yen Bai all year, but the best time to visit Yen Bai is in Summer (March to October) to see clearly of moutain views, Autumn to visit amazing rice terraces before harvesting time, Spring to enjoy romantic view of plum and apricot flowers.
In the Winter, there are still a lot of people do, but the view is very mysterious.
PROMOTION:
- Get discount 5% per person if you book on

vietnamlocalbus.com

group of 5 people.
- Get 10% for next bookings of our bus tickets bellow:
255 Bo De street, Long Bien district
10000 Hanoi
Vietnam