Quang Ninh is a province, located in the North - East of Vietnam. The distance from Hanoi to Quang Ninh is about 183 km which takes you about 3,5 hours riding with amazing view on it's way. Nowadays Quang Ninh with Halong Bay becomes a highlight tourist place in Vietnam which attracts a lot of travellers all over the world.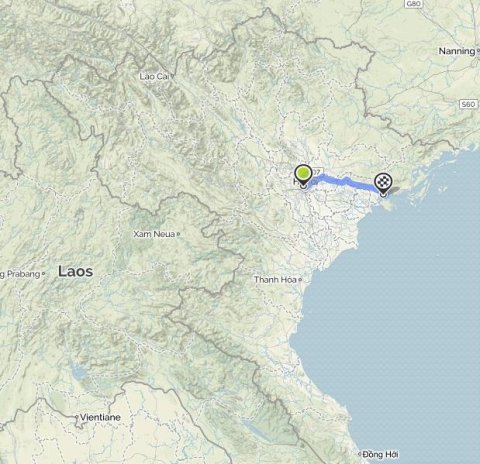 Halong Bay is a landscape in HaLong city, Quang Ninh province which means "Desending Dragon", has an area around 1553 km2, contains around 1696 islands. Ha Long bay the first time becomes a World Heritage is in 1994.
It is amazing place you should never miss when you come to Vietnam.
BUS TO HALONG BAY
How to get to Halong bay from Hanoi is the question that all travellers want to know. There are 4 different ways to get to Halong Bay from Hanoi. But going with Vietnam Local Bus is the cheapest and easiest way because:
- We have service to pick you up from your hotel or agency with English speaking guide.
- We have contact with many good buses at the bus station, you will not have to worry about your belongings.
- Easy to purchase ticket, you can book online 1 day, 2 days or longer in advance if you go on Vietnam holiday time.
- We have worked with a lot of bus compaies the whole years, so we always have available seats for you even you go on our holiday as long as you let us know before 48 hours (on holiday time).
- Flexible and convenient in payment, you can pay online by Visa, Master, American Express card (3% bank fee will be added), Paypal, Western Union...
- You can check all detail, useful information from our website vietnamlocalbus.com before you decide to purchase your ticket.
- We are free of charge you want to change departure date as long as we are informed 24 hours in advance by confimation to you.
1/ FROM HANOI TO HALONG BAY
TIME TABLE:
Schedule
Pick up time
Arrival time
Price

Halong bay -Hanoi

Every hour from 4.30 am to 19.30

After 2.5 - 3 hours

18 USD

Information

- Pick up: Hotels in Hanoi center

- Drop off: Hotels in Halong city center

- Bus type: Limousine bus
DETAIL INFORMATION:
FROM HANOI TO HALONG BAY DAY BUS
- 4.30: am – 19:30 pm (leaving every hour except 11.30 am): Driver picks you up from your address. It takes about 2.5 hours to Ha Long city. You might change bus one time on the way.
After 2.5 hours - 3 hours: Arrive in Halong city, get dropped off at your hotel.

PRICE: 18 USD/ PERSON

Included: Bus ticket to Halong Bay.

Excluded: Insurance, meals, drinks, tip to guide, personal expenses.

BUS ROUTINE:

Hanoi – Bac Ninh province – Hai Duong Province (short break) – Dong Trieu District – Uong Bi city – Quang Yen Town – Ha Long city – Tuan Chau gate – Bai Chay bus station (last stop).
BUS HALONG BAY TO HANOI
TIME TABLE:
Schedule

Pick up time

Arrival time

Price

Halong bay to Hanoi

4.30 - 19.30

After 2.5 - 3 hours

18 USD

Information



- Pick up: Hotels in Hanoi Old Quarter

- Drop off: Hotels in Halong city

- Bus type: Limousine bus

DETAIL INFORMATION:
HALONG BAY TO HANOI DAY BUS
4.30 am – 19:30 pm (Every hour), we pick you up at your hotel in center of Ha Long city then you get on Limousine bus heading to Hanoi. It is 2.5 - 3 hours from Ha Long to Hanoi including 1-2 stops on the way for stretching your legs and bathroom. You will arrive in Hanoi about 17.30, this bus will drop you at your hotel in Hanoi. Finish your bus journey.
PRICE: 18 USD/ PERSON
Included: Bus ticket to Hanoi.
Excluded: Insurance, meals , drinks, tip to guide, personal expenses.
BUS ROUTINE:
Hotel in Ha Long – Bai Chay bus station – Tuan Chau gate – Quang Yen town – Uong Bi city – Dong Trieu District – Hai Duong province (shortbreak) – Bac Ninh province - My Dinh bus station (last stop).
PRICE FOR CHILDREN:
- Children under 4 years old sleep with their parents are free.
- Children from 4 years old and up same price as adult, have their own seats.

Note:
- Our bus stops at Bai Chay bus station in the centre of Ha Long city where is near by Vuon Dao street . You can easy to find hotels.

- At Ha Long city you can rent a private boat or join a group tour to discovery Halong Bay with the price from 29 USD per person for 4 hours. You can contact us if you need further information or book this tour with us.
DAY BUS OR NIGHT BUS TO HALONG BAY
DAY BUS:
- Advantage: From this bus, you can enjoy seeing a lot of beautiful lanscapes on the way to Ha Long . You have time to discovery Halong Bay, you also can come back on the same day if you dont want to stay overnight in Halong city/ boat.

- Disadvantage: Morning buses are always seatting bus therefore it can make you tired.
NIGHT BUS:
+ Advantages: When you arrive, you have a night for relaxing before visiting Halong bay.
+ Disadvantages: You will arrive at late evening or midnight and need a hotel to stay which costs you a bit more for this Halong bay trip. You are also not able to see any view on the way.
These two buses have good points and bad points. Therefore it's hard to give you advice of which one is better. In my opponion, which one works well with your travel plan (time, budget...) is the better bus.
DIFFERENT WAYS TO GO TO HALONG BAY
1/ GO TO BUS STATION BY YOURSELF
This is the best option for you if you would like to save money. You can take a taxi to My Dinh, Giap Bat, and Nuoc Ngam bus station to book ticket. Bus timetable is very flexible. Purchasing bus ticket by yourself, it means you have to arrange verything you do by yourself: taxis, contact driver, finding the right bus among hundreds buses in station... It is not very easy when you dont speak the language and local people here dont speak English too.
!!! Warning:
- At bus stations, there are many gangster men who are willing to cheat you to get you on terrible or wrong bus, you have no idea where you are going to as you can not communnicate to local people. Till you realise it, you are far away from the big city.
- There are a lot of buses, neither do you know them, nor do they know you. If there is anything happens to your belongings, you have noone to ask for help.
- During festivals time in Vietnam (Independent holiday, King ceremony holiday, New Year holiday...), local people often plan their holiday in advance. Bus tickets to Halong Bay mostly fully booked very soon. Therefore it is difficult for you to purchase ticket by yourself if you have a narrow plan.
2/ HANOI TO HALONG BAY BY MOTORBIKE
You can rent motorbike in any travel agencies in Hanoi to slowly driving to Ha Long city then Halong Bay and back . For a good quality for motorbike, it costs about 8 USD per day which can be for 2 people sit on. You should drive slowly to enjoy landscapes and stop for photos shooting on the way.
Note: You should give your passport to agency, read the contact carefully and choose good motobike, furthermore you should check careful with their mechanic service conection in case your motobike is broken on the way.
!!! Warning: You should be carefully before renting because roads to Ha Long bay are very dangerous with traffic jam, bad road.
3/ HANOI TO HALONG BAY BY TOURIST BUS
You can book and join a tourist bus from companies who organise tours to Halong Bay but you have to leave early in the morning around 7.30 - 8.30 am. Because tour from Hanoi to Halong Bay tour companies always give priority to people who book a package tour than people only book bus ticket. Therefore, sometimes you can book - sometimes you can not. And it can be cancelled in a short advance when they cant collect enough customers to make their tour run.
4/ HANOI TO HALONG BAY BY PRIVATE CAR
This option seems to be the most convenient one for you if you have a group of at leasts 3 - 4 people join with you. If not it is kind of very expensive to go alone or too small group.
HALONG BAY TRAVEL TIPS
It is very important to have a safe trip. Here are our tips:
- You should carry valuable things with you, incase your bags are picked up by other people by chance or by purpose.
- Remembering plate number of the bus is always good incase you foget something on bus, we can find it quick & easy for you.
- Before leaving the bus, you should check your belongings again and again incase it is picked up by othe passangers on bus before we find out.
- Many bus companies from Hanoi to Halong Bay but which is good one is very difficult. In my opinion, good bus is a new one which has been running around 1 – 3 years, so that they have good working airconer.
BEST TIME TO VISIT HALONG BAY
You can visit Halong Bay all year, but the best time to visit Halong Bay is in summer, Auntum, Spring (March to October) to see clearly of islands, islets, caves, floating villages view.
In the Winter, there are still a lot of people do, but the view is very mysterious.
PROMOTION:
- Get discount 5% per person if you book on vietnamlocalbus.com group of 5 people.
- Get 10% for next booking of our tickets:
HANOI TO DIEN BIEN PHU
HANOI TO HA GIANG
HANOI TO MU CANG CHAI
HANOI TO NINH BINH
HANOI TO CUC PHUONG NATIONAL PARK
255 Bo De street, Long Bien district
10000 Hanoi
Vietnam