Sapa is one of the must - see places when you travel to Vietnam. It is not only famous with beautiful moutain, rice terrace but also the cultural characters of ethnical people which you hardly find from other places in Vietnam.
Booking a bus ticket with us, you will have:
Pick up services from the hotel and drop at Sapa center.

Options of: sleeper bus/ Seating bus/ Luxury Limousine car.


Cheap ticket, easy booking, fast and convenient bus.
Note: Most of tourist buses are only leaving in the morning and evening. But you can take a local seating/ sleeping bus which have similar price, to have more options of departure time.
>> BUS FROM HANOI TO SAPA:
Sleeping bus from Hanoi to Sapa:
This is a big bus with 29 - 35 beds, most of them are 1.7 meter length. There are 5 beds at the end of the bus are a bit longer which is very good for someone who is taller than 1.7 meter. It also has toilet and wifi on this sleeping bus.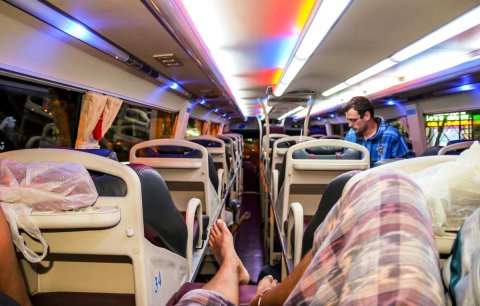 A small bus will pick you up from your hotel to a bus station and then you will get on sleeping bus. It takes approximately 6 hours to get to Sapa center, from where you can easily walk to find a hotel, tour guide or transportation to discovery Sapa villages.
They only drop you off in Sapa bus station, not bring you to your hotel. If you take a night bus from Hanoi to Sapa, you will arrive very early in the morning (around 3-4 am), but everyone can continue sleeping on bus till 6.00 am when it brights. It is very good point of this sleeping bus.

Schedule
Pick up time
Arrival time
Price
Hanoi - Sapa
6.30 - 7.00 am
13.00
12 USD
12.00 pm
18.30
17 USD
21.00 - 21.30
3.30 am
12 USD
Information

- Pick up: from hotel in the Old Quarter

- Drop off: Hotel in Sapa town

- Duration: 6 hours

- Bus type: Luxury seating bus
Luxury Limousine car Hanoi to Sapa
This is the most luxury car to go to Sapa, it contains only 9 comfortable big seats on a 16 seats size mini van. Therefore, you have more space for stretch your legs on this 6 hours long journey. It is also very convenient for you to sleep.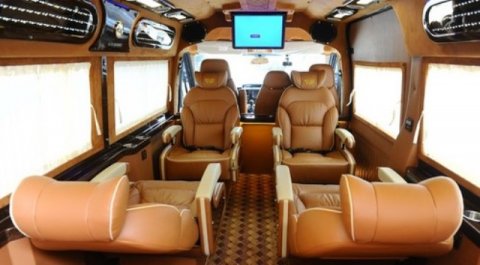 This luxury Limousine car provides service pick up and drop off in your hotel in the center of Hanoi and Sapa. It is really worth value of the money you pay for the nice service.
Schedule

Pick up time

Arrival time

Price

Sapa - Hanoi
6.30 - 7.00 am
13.00
20 USD
Information

- Pick up: from bus office/ bus station in Sapa town
- Drop off: Bus office/ bus station in Hanoi
- Duration: 6 hours
- Bus type: Sleeping bus


>> BUS FROM SAPA TO HANOI:
When you book the ticket, we will give you the address of bus office/ bus station in Sapa center which is easy to find. You will have to go to the place by yourself to catch this bus. You should better be ready there before 30 minutes, show the driver your booking receipt to get on bus back to Hanoi.


This bus will not drop you in your hotel in Hanoi Old Quarter. It will only bring you to bus station in Hanoi and you have to find transportation on your own to get back to the Old town.
Sleeping bus from Sapa to Hanoi:
Schedule
Leaving time
Arrival time
Price
Sapa - Hanoi


8.00 am
14.00
12 USD
16.00
22.00
12 USD
21.00 - 21.30
3.30 - 4.00 am
12 USD
Information

- Pick up: from bus office/ bus station in Sapa town
- Drop off: Bus office/ bus station in Hanoi
- Duration: 6 hours
- Bus type: Sleeping bus


Luxury Limousine car Sapa to Hanoi
Schedule
Pick up time
Arrival time
Price
Sapa - Hanoi
14.00
20.00
20 USD
21.30
3.30 - 4.00 am
20 USD
Information


- Pick up: From your hotel in Sapa town
- Drop off: Your hotel in Old Quarter in Hanoi
- Duration: 6 hours
- Bus type: Comfortable seating bus
>> THINGS TO DO IN SAPA
If you have a litmited time to visit Sapa, you should better book a package tour with everything includes so that you can save time of walking around, asking different agencies in Sapa for ideas of visiting. Preparing a short package schedule is always better in this case. Here is some highlight, must - see points once you reach Sapa:
Ham Rong mountain
Cat Cat village
Ta Van village
Lao Chai village
Giang Ta Chai village
Su Pan village
Ban Ho village
Fansipan moutain by cable car
Bac Ha market
If you are thinking of taking a package tour, here are some cheap, popular programs which you can take a look:
SAPA TOUR 2 DAYS:
>> BUSES FROM SAPA:
255 Bo De street, Long Bien district
10000 Hanoi
Vietnam